MARINERS' TRAINING CENTER
"ONE-STOP-QUALITY TRAINING PROVIDER"
In 1994, the Mariners' Training Institute (MTI) was established to provide relevant and comprehensive range of education and training programs to interested individuals particularly seafarers for them to meet the challenges as of today's rapid globalization in the field of international shipping and maritime industry. MTI also welcomes enrollees/trainees of non-maritime field (e.g. Hotel and Restaurant Management, Tourism, Commerce) as well as ship staff of coastwise/domestic companies. And one of the organization accredited by Maritime Industry Authority (MARINA).
The first course offered by the Mariners' Training Institute was Safety of Life At Sea (SOLAS), which included the following courses: First Aid, Fire-Fighting and Personal Survival Techniques. The name SOLAS has been replaced by Basic Safety Course with National Assessment Centre (BST with NAC) that includes the following courses: Elementary First Aid, the objective is to enable the trainees to acquire immediate basic medical care at the scene of an accident or medical emergency until the arrival of the person in charge of medical care onboard. Fire Prevention and Fire-Fighting, the objective is to be able to react in a correct manner in an event of an outbreak of fire, to take appropriate measure for the safety of personnel and of the ship and to use the fire appliances correctly. Personal Survival Techniques is for trainees successfully completing this course will be able to react in a correct manner in the event of fire, collision and foundering and survival at sea in the event of ship abandonment. Last, is the Personal Safety And Social Responsibility, the specification of minimum standard of competence is to be able for the trainees to do the right thing in ship in case of collision, fire, foundering and to have knowledge of shipboard contingency plans for response to emergencies.
Accredited by the Maritime Training Council (MTC), Maritime Industry Authority (MARINA), and in compliance to STCW Circular 2018-02: Standards for Mandatory Training Courses under the SCTW Convention, 1978, As amended.

Standard Training Certificate of Watchkeeping (STCW)
and Upgrading Courses:
Basic Training (SECTION A-VI/1) (10 Days)
Personal Survival Techniques (PST) (tABLE a-vi/1-1)
Fire Prevention and Fire Fighting (FPFF) (Table A-VI/1-2)
Elementary First Aid (FPFF) Table A-VI/1-3)
Personal Safety & Social Responsbility (PSSR) (Table A-VI/1-4)
Value Added Training (VAT) (Non-MARINA Certified Training)
Seamanship Skills Enhancement (Hull Machinery Maintenance Training Bosun's Chair and Painter's Stage Operations)
International Safety Management (ISM) Code Familiarization for Ratings
SOON TO OPEN!
Advance Training in Fire Fighting (ATFF) (Table A-VI/3)
Proficiency in Survival Craft and Rescue Boat (Other that Fast Rescue Boats) [PSCRB] (Table A-VI/2-1)
Security Awareness Training and Seafarers with Designated Duties (SAT-SDD) (Table A-VI/6-2)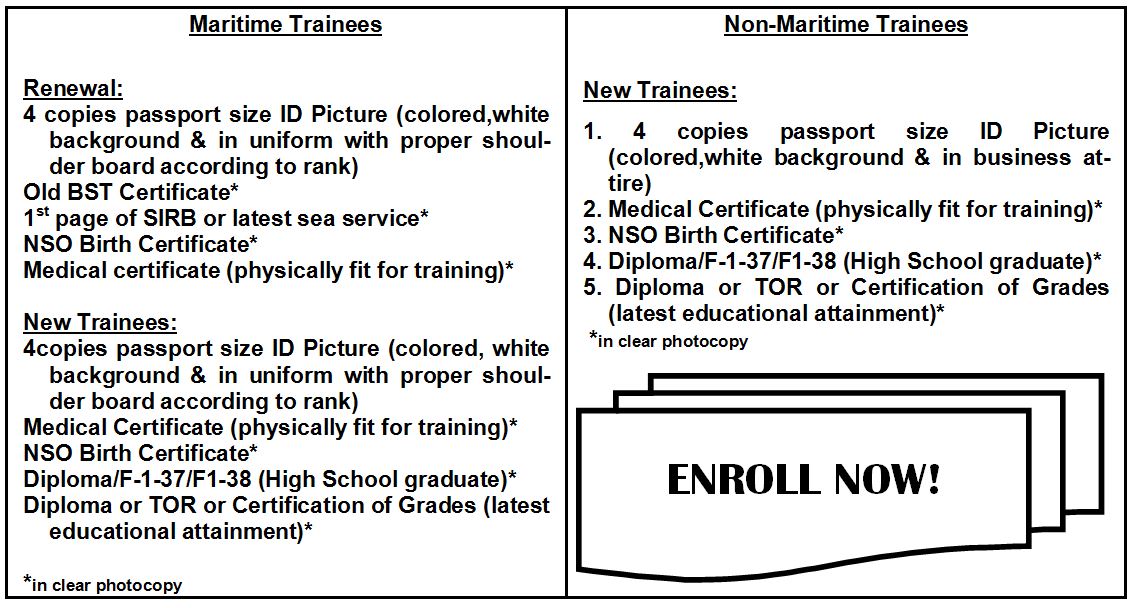 FOR INQUIRIES CONTACT US:
CP No.: Smart: 09104912066/ 09394047754 Globe:09358850321/09455305808
Tel. No.: (052) 437-2415/(052) 482-0997/(052) 482-0167  Telefax No. (052) 482-0167

E-mail add: mpcflc_trainingcenter@yahoo.com/ FB: Mpcf Legazpicity  Albay (Training Center)MPCF-Training Center3rd Floor Office, Main Building
MARINERS': JOB READY, LIFE READY
Training Photos :