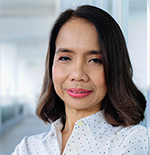 It is my privilege and honor to take the helm at MPCF Legazpi as its fourth President, and its first Lady President.  I am grateful for the trust and faith bestowed on me by the members of the Board of Trustees and the MARINERS Community.  The continual growth of the Institution is a stark illustration that the Founders' dream of providing quality maritime and business education that is accessible to all, especially to Bicolanos lives on.
MARINERS spells family to me.  I am fortunate to be part of the Institution since its inception in 1985.  I am witness to the many students who walk past its hallowed halls, who are now contributing significantly in their respective disciplines and professions.  I am cognizant of the many members of the faculty and staff who dedicated their knowledge, skills, time, and lives to the College.  Thus, I am every bit intertwined in the stories of its past, thankful to be part of its present, and very eager about setting a course towards its great future.
With reverence, I am committed to build upon the legacies of all the past Presidents of the Institution.  I am deeply humbled by their accomplishments and appreciative of all that they have done for MARINERS.  I salute them for the lasting connections and impact they have made to its multifarious stakeholders – students, faculty, staff, parents, alumni, partners, and the adopted communities.  When I accepted this position early this year, certainly I knew what daunting and challenging task lies ahead, but I am constantly comforted by the very idea, that this once in a lifetime chance is a profound opportunity for service. 
Under my administration, I envision MARINERS to take leadership role in maritime and business education.  It clearly dawned on me that the best way to make positive change happen in education is to innovate.  Besides, learning and innovation has always been inseparable.  I believe that it is only through innovation where we can truly step outside the box, be creative, and have a progressive shift in mindset.  We will start with pockets of innovation, and nurture it to become one of our honored institutional cultures.  Ultimately, innovation is our commitment to our stakeholders – developing new ways on how to be effective, efficient, and better as an institution of higher learning. 
At the start of my Presidency, we have introduced my 10-point Agenda which is anchored on the Institution's mission and vision statements.  During my first few months, we have earnestly conveyed the 10-point Agenda to all our stakeholders thru various meetings, fora, and dialogues so they can share my vision for the College.  
As a maritime and archipelagic nation, we are called upon to rise up to the challenge of being a  precursor of innovative programs  that will  increase more awareness and  appreciation of the maritime character of this country.  The nature of the programs of MARINERS LEGAZPI carrying both  maritime and business programs provides good condition to cultivate  and develop these further to meet the needs of the industry.
The 10-point Agenda will be our guide and the foundation of our strategic direction in the years to come. 
In the coming months, it is imperative that we create the proper conditions in which these plans can genuinely prosper.  This entails a great deal of stewardship and leadership, as well as commitment to the values of diligence, collaboration, and accountability.  In my term, I will observe a healthy atmosphere where relevant and meaningful ideas and programs can thrive for the development of our beloved Institution that is inherently linked to our community and the country.  Our institutional achievements  can only be meaningful if they significantly impact not only on our graduates and their families but also on the community  and our country.
Undoubtedly, there's a lot of work that needs to be done.  I am also certain that there will be hurdles and challenges along the way.  Hence, our success will not be defined by individuals, but by the strength of our unity, the quality of our innovations, the depth of our determination, and the loyalty to our shared vision.  Together, we can make all these possible.   
Thank you very much.
MERLE JIMENEZ – SAN PEDRO